August 2nd, 2011
If you're looking to book a family holiday near Willemstad on Curacao then you really consider staying at this gorgeous rental villa called Kas Largu which we rented for our summer holiday in the Netherlands Antilles last month.
The villa is huge and can fit a big family or small group vacation easily. I added some pictures of the beautiful porch where we had our family breakfasts in the morning and some other nice hangout spots like the outdoor pool decorated with palm trees and white sand to make you feel at home on your private beach!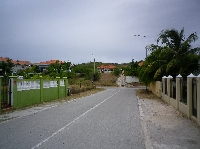 Tours Willemstad
We found out about Villa Kas Largu through the internet while searching for a bigger accomodation not too far from Willemstad and found it to be perfect, especially when you have a car this place is the best on Curacao Island I guess. We had our own drive way and a gps system in our car so making our way around the island was a piece of cake!
At night we enjoyed the tasty restaurants at the Boathouse Food & Marina area while during the day we visited local markets, explored the beaches and had a wonderful family time in the Netherlands Antilles.