May 30th, 2011
I just came back from a holiday on beautiful Curacao with my big sister and my mom. We had great weather, a beautiful hotel ( the Chocogo Resort in Jan Thiel near Willemstad was where we stayed for two weeks and it was like a little paradise) and just such a relaxing stay.
My mom had rented a car so we could drive around the island which was really convenient when we wanted to combine an afternoon at the coast with dinner in Willemstad for example.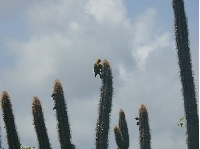 Tourism Willemstad
Willemstad is one of my favourite places on Curacao because of its exotic vibe created by the colourful houses, the tourists everywhere, great food, even better weather and a lot of nice places to shop for souvenirs. It was also really awesome to spot wild parrots and liguana's in the trees and bushes, what a beautiful place!