October 16th, 2010
I had to take part at a conference in Vienna (Vienna conference center Messe Wien). I used my chance to go arround Vienna and take a look at this wonderful city. Having heard that Vienna is one of the safest cities in the world, I even dared to go arround in Vienna during the night and check Viennas nightlife (even though being a woman on my own!).
I have done all the sightseeing in Vienna, but also I found the time to visit the other Vienna, like Cafe's, little very old streets in the city, marketplaces, and last but not least Vienna's famous funfair, the Prater.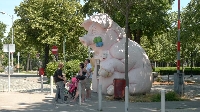 The Pig! I found it very..
This was where I lived in a really nice apartment:
Apartments Vienna - viennapartment.eu