March 1st, 2010
I wento to Vienna on a field trip and had a great time while I was there. Vienna is a beautiful city and the people are really friendly.
During the day we went sight seeiing in the city centre with its beautiful parks, monuments and fountains.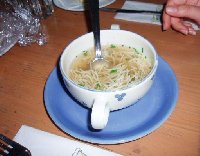 Cuisine in Vienna, soup!
At night you will find a lot of nice bars in Vienna. As for the restaurants, the food could be better and I remember having just soup for dinner.
You also find a lot of fast food joints to grab something to eat. For a few days it was ok!