February 22nd, 2010
Vienna is a beautiful city, very chique and sometimes even a bit expensive. Vienna is also known as the home of Princess Sissi who had a beautiful castle which today is still one of the many popular touristic attractions of the city.
Searching for the princess myself I was able to take some pictures from inside the castle!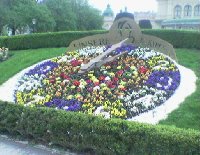 Beautiful Gardens in Vienna
Besides the Castle of Sissi I really liked the street panorama of Vienna in general and I saw some really amazing constructions. Some of the houses are painted in the most amazing colours and others actually seem to move because of their curvy shapes.
I also visited the Prater Amusement Park where you will find Europe's largest panoramic wheel. Between bouncy houses, farytale castles and giant wheels you will have enough interesting places to visit during the day.
At night Vienna offers a great night life with many bars and restaurants. There is one suburb called the Bermuda Triangle which is famous for its buzzling clubs and bars.