January 13th, 2011
During the last week of November my fiance and I went on a long weekend to Vienna, the capital city of Austria. I had heard that Vienna was known as one of Europe's most beautiful cities next to Paris, Rome and Prague so I was really excited.
We had a flight with Air Berlin which was perfect and after a short flight we had arrived in Austria.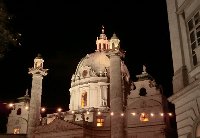 Where to go in Vienna
The weather was good eventhough a bit chilly but we didn't care. The city of Vienna was stunning with all the Christmas decorations and the beautiful buildings like the overimpressive Rathaus.
During the day we did a lot of sightseeing and managed to see a lot of the city. We also discovered some nice places to eat like Livingstone, a great place with a tasty fusion cuisine!