October 19th, 2010
Corsica is the annual travel destination of our family and usually we head there for a three weeks holiday around September, depending on the period in which my husband can get off from work.
This year we arrived in L'Ile Rousse by ferry and rented a small car which fitted us four perfectly and had enough space for our luggage as well.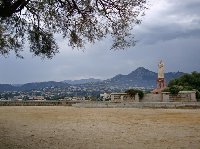 Travel Guide L'Ile Rousse
We spent our first days in L'Ile Rousse, in the north of Corsica.
From L'Ile Rousse we travelled to other places in the east and the south of Corsica like Bastia, Saint Florent, Nonza, Ponte Nuovo, Corte, Avapessa, Ajaccio, Calvi, and Sant'Antonino travelling from the north of Corsica all the way to the south.
L'Ile Rousse is a common ferry port and place to arrive in Corsica. The town is built on a beautiful bay which offers great views of the island and L'Ile Rousse Tower which is located on Pietra island.
We stayed at Hotel Splendid on Place Paoli which was beautiful and of course the positiion of the hotel couldn't be better.