October 20th, 2010
Every now and then I travel down to Chicago for business and stay their for a couple of days. I also have a good time their and often stay for the weekend as well.
My company usually bookes their rooms at the Ritz-Carlton in Chicago, a very comfortable and outstanding Four Season's hotel.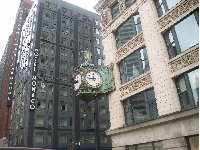 Travel Experience Chicago
Especially when you're just staying for a couple of days it's nice to have all comfort services like they offer.