December 31st, 2009
The city of Chicago is the biggist in the state of Illinois and is called home by over 3.8 milion people.
The Chicago Skyline is really pretty with its lake front view. Also within the city Chicago is famous for its great architecture and huge shopping complexes. A good place to go shopping would be on Magnificent Mile where you'll find all the upscale boutiques and stores. A good alternative is offered by State St with thousands of nice restaurants and bars to take a break from your shopping spree.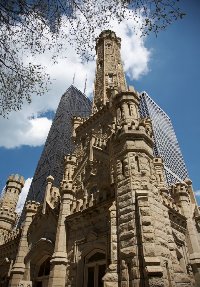 The Chicago Water Tower
On Magnificent Mile you will also encounter the Chicago Water Tower which serves at Chicago's main Visitors and Tourists Centre. This 47 meters high water tower was build in 1869 and is the second oldest water tower in the United States.
Chicago also has a lot of great parks to relax and enjoy a picnic or spend time with family or friends. Nice parks to visit would be Portage Park and Washington Square Park.
If you're into American Cuisine..you should definitely visit the Chicago Farmers Market where you'll be able to dig into real american pizza's (not to be mistaken for the Italian pizza..eventhough half of the stands and restaurants are Italian), hotdogs and a lot of other snacks. You'll find a great range of Italian, Greak eateries here due to the huge flow of European immigrants after the two world wars.