April 6th, 2011
In March my wife and I made a trip to Chicago to visit my parents and took a flight from Baltimore where we live.
I recently moved to Baltimore for work so every now and then I try to get back to Chicago for at least a couple of days to visit friends and family.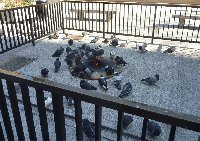 Tours Chicago
We had a fine trip with American Airlines and had a very warm welcome in Chicago where some of my relatives where waiting for us at the airport.
We really enjoyed our time in Chicago and my wife always loves to come here because of its nice parks and cosmopolitan feel. In between visits and errands we always try to have some quality time with the family as well.
Some nice things to visit in Chicago would be the Zoo if you're travelling with kids but also the landmark Chicago Theatre where you could go to listnen to amazing concerts or maybe enjoy a play or show like we went to The Bill Cosby Show which was a lot of fun.