October 15th, 2009
We drove from Coral Bay to Monkey Mia, the famous dolphin resort at 26k from Denham. On our way we also made a stop at Carnarvon where we did some grocery shopping at the IGA supermarket.
Monkey Mia is known for it's wild dolphin feedings every morning from 7.30-9.00 pm and as if they would have a radar with a timer on it exactly around that time the dolphins showed up during our visit aswell.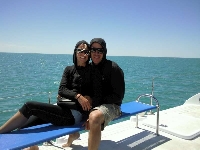 On the Shotover
The dolphins come really close to shore and will swim just at a metre distance from where you're standing on the beach. The feeders monitor the state and conditions of each dolphin and recognize them by the shape of their fin. Each dolphin has it's own name and Nikki, Piccolo, India and Startle were just a few of the cuties that showed up at the feeding during our stay.
The show is free of charge and the only thing that you have to pay, besides your resort or lodge, is the 8 AUD Monkey Mia National Park fee when you enter the park.
After the feeding we decided to do the Shotover Catamaran Wildlife Spotting Tour at 9 pm. That ride was spectacular and we finally spot the timid dugong ( the sea grass eating sea elephant) which we haven't been able to spot before. We also got some great footage off a sunbating loggerhead turtle and some cute dolphins.
The Dolphin Lodge where we stayed was just fine but don't expect too much of the sanitary facilities as it's still a budget accomodation and the backpackers kitchen shows..
Overall stay was really great and we had a wonderful stay at Monkey Mia.