November 18th, 2010
Here are some pictures of the Pinnacle Desert near Cervantes which we crossed by rental car, a great experience and definitely a tourist attraction in Western Australia you shouldn't miss!
We have just arrived in Perth and driving down the coast of Western Australia we made as many stops on the road to visit cool places like the Pinnacle Desert.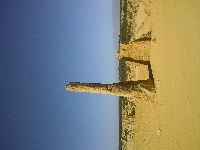 Vacation in Cervantes
If you're going on a roadtrip like me and my boyfriend did, make sure to fuel up, bring a travel guide and also pack some extra sandwiches and snacks because it can get lonely on the way;)
From Cervantes we drove into the Pinnacle Desert National Park which has a special itinerary for you and driving around the desert plains you can park your car to take pictures in between the pinaccles or enjoy the view from the wooden platform which overlooks the entire park.
If you want to rent a car, make sure to get a car insurance as well, you might hit a pinnacle as how narrow the roads are! Bon Voyage.