December 13th, 2010
At the moment I'm in Utrecht to do research for my MA and I will be staying here for the next three months. The Utrecht University is a great place and all the students are really nice and friendly.
In my first week in Utrecht I got the chance to explore some of the city center and of course the bars and restaurants where everyone is going!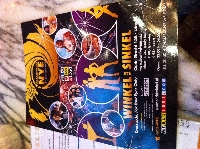 Holiday in Utrecht
I loved this bar called Winkel van Sinkel in the heart of Utrecht and it might be one of the most beautiful bars I've seen in Europe so far. It is enormous and always filled with people.
When you come to Utrecht make sure to get to the Winkel van Sinkel because their hot choco is to die for!! Plus they throw all kinds of parties, also this Christmas and New Years Eve. The design in this bar is really impressive and at night the whole bar colours red, orange and pink and you'll be able to spot it rightaway. O its next to a cinema as well.
As for dinner I love this Cuban place called Havana, just behind Janskerkhof where I go to the university. They have great tapas, wraps and good cocktails as well. Two great place to stay in Utrecht, recommend!!