December 21st, 2010
I just came back from a road trip through the region of Kashmir in the north of India. I travelled together with two good friends and our journey started in Delhi where we rented a car to start our trip to Leh and the Ladakh Region.
After spending a few days in Delhi, the capital city of India, we had taken in enough big city air and needed a break from the chaotic lifestyle in downtown Delhi.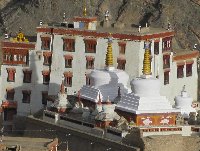 Tours Leh
The roadtrip was unforgettable and we had such a great time.
More you travel to the north more dramatic and magical the scenery gets and then after passing all those hours, there it is, the beautiful Lamayuru Monastery right on the Srinagar - Kargil - Leh road.
This monastery is probably the most important landmark and tourist attraction in Ladakh and is built in a beautiful setting between the Great Himalayas and the Kulun Mountain Range.
Heading toward Leh, the capital city of the Ladakh Region, we also encountered the Chamba Statue of Mulbekh. This statue pictures a tall Buddha and is completely carved out of the rocks. Nearby you'll also find a small temple you can visit.