July 13th, 2011
The beautiful state of Rajasthan has an incomparable aura. It is the largest state in the Indian Republic and one amongst the most visited states in India.
Jaisalmer town of Rajasthan is a popular tourist destination. It has many worth visiting places like the Jaisalmer Fort, the beautiful Havelis and the Jain temples. Out of the many beautiful Havelis in Jaisalmer, the Haveli Shreenath is a palatial building.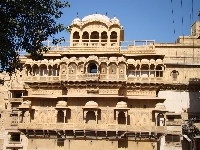 Jaisalmer
Haveli Shreenath was built in the 15th century by the Vyas family. The Prime Minister of Jaisalmer used to reside in this haveli. The haveli has many rooms and 5 rooms of the haveli have now been converted into a hotel and the guests who occupy the hotel, get a taste of royalty. The present day Vyas family still resides in Haveli Shreenath. There is magnificent brass or iron handles used for the doors of this haveli. The ceilings and doors of this haveli are carved out of expensive wood, which gives it a grand look.