November 4th, 2009
After getting off the Sealink ferry in Penneshaw, Kangaroo Island, we visited the Visitors Centre to see what we could do during our three days on the island.
One of those things was hiring some sand boards and boarding down the dunes of the white Little Sahara desert. The Little Sahara is located on the South Coast near Vivonne Bay ( voted Australia's best beach in 2007 ) and Seal Bay where you can visit a colony of australian seals. While Little Sahara is about 7 km east of Vivonne Bay you'll find your sand boards at a place called Kangaroo Island Outdoor Action which is located about 2 km west of Vivonne Bay.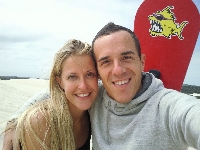 We made it!
Vivonne Bay itself is just a km stretch of road and the only thing you'll find there is a general store where you can buy some postcards or grap a sandwich. Head to KI Outdoor Action to get your boards and off you go!
You can choose two types of boards, the broad one (39 AUD pp) on which you can slide down the dunes while seated or the ' snowboard' ( 29 AUD pp) to board down the sand hills the way you're suposed to..standing!
We took the cooler and cheaper board because those give you the opportunity to both slide or surf down.
7 km later we got ourselfs on top of the sand dunes ready to surf! Eventhough staying on your feet might seem like a piece of cake we sure turned out to be two amatures:) But we had great fun and some great footage!