February 3rd, 2010
The Snake Lagoon hike is one of those walk every guide book tells you is too good to be true. The area on Kangaroo Island is known for its meandering streams which lead to the ocean and the many coloured wildflowers. If you're lucky you might even spot a platypus in one of the many ponds.
Unfortunately we didnt see any platypuses but I did almost step on a tiger snake while photographing some flowers! And the guide told us the name of the Snake Lagoon had nothing to do with there being any snakes..Luckily for me I got away because this one was poisonous and seemed pretty active.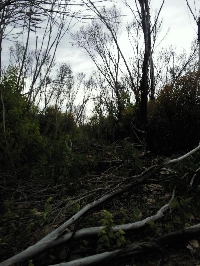 The burned bush land
The hike itself was ok ut not as good as I thought it would be. It takes you quite a while to get to the beach and the path isn't for beginners. You have to jump literally from rock to rock and some parts of the bush make it hard to walk through because of the strangled branches. It was good we did it but I was happy when we got back to the car.