February 7th, 2011
Briançon Ski Holiday, 6 friends in a fiat panda all the way from Belgium to Provence, the best piece of France!
We had this crazy idea to go skiing in the Hautes Alpes, in the French Alpes, a popular winter holiday destination in southeastern France and for a couples of young guys looking for a fun week away from home, paradise:)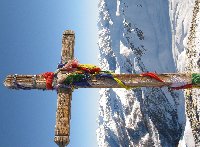 Vacation in Briançon
After a long trip.........we had finally arrived in Briançon where our ski adventure started with finding our appartment.
Two hours later, all settled in our luxurious bungalow with mountainview we decided to take it uphill and start off with some serious snowboarding.
The piste was amazing and the snow thickness perfect. We also had great weather with a lot of sunshine and not too much wind. The Serre Chevalier Ski Resort area of Briançon was really nice and seems to boom in winter season when bars open up and population triples in size. Let's just say..we had fun and will be back winter 2012!!