February 7th, 2011
Just before Christmas my fiance and I went on a Costa Deliziosa Cruise to the United Arab Emirates leaving from Savona, Italy. The cruise headed for Dubai, the main stop of the cruise itinerary but not the only one.
From Dubai we headed to Abu Dhabi and visited other places like Bahrain, Fujairah and Muscat, all part of our 20 day Costa Deliziosa Cruise.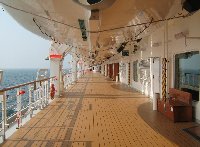 Holiday in Dubai
Where do I start, the cruise ship, the crew, the quality of it all? The food was excellent, the staff superb and the ship had all the features you would appreciate in a high end boutique hotel.
It was an amazing journey and it totally changed my opinion on cruises and cruise holidays in general! Of course, you won't be the only person on board but it really is a luxurious way of travelling and a great way to visit a city like Dubai.
After a day of sightseeing we returned at the ship where there were all sorts of options to make it through the evening from restaurants and theatres to casino areas, bars, swimming pools and lounge rooms. There was enough and more of everything!
I'll add some pictures of the Costa Deliziosa Cruise Ship in the picture gallery and will be back to share more about my travel experience in Dubai and the other places we visited during our holiday in the United Arab Emirates.