May 5th, 2011
Three weeks ago I came back from an amazing time in Dubai where I ended a six month internship for a company in the fashion industry. Before my departure I didn´t know what to expect from Dubai but it was everything I could have wished for and more!
It was the same feeling I felt when I visited New York for the first time, it´s vibrance and dynamic lifestyle with new projects, ideas and ambitious people surrounding you everywhere.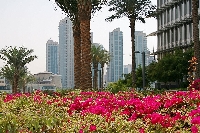 Tours Dubai
I also had the luck to be able to tour the Burj Khalifa Tower, the world´s tallest building and the pride of Dubai.
The view from the Burj Khalifa was amazing and you could look out over the entire city with its luxurious hotels and construction sites surrounding the city.
The United Arab Emirates are definately a nation ready to conquer the world and I would love to apply for a job after my graduation. It´s dynamic architecture and attractive scenery were a great source of inspiration for myself and I could see myself living here any day, New York eat your heart out!