December 2nd, 2010
Another common travel destination for me in the Middle East would be Dubai, the commercial hub of the United Arab Emirates and a city that has been booming in a great variety of businesses and industries.
Dubai is definitely a city I like to go to, even if it's for business, and I feel very at home there. The last trip I made to Dubai was in May of this year and I spend three days there which was obviously too short to fully enjoy all the great things that this gem has to offer.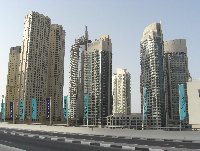 Trip to Dubai
I would also recommend Dubai as a great destination for a Christmas or New Years holiday for its great weather in the December month which can be a breath of fresh air compared to the temperatures in other parts of the world around that time.
And very important as well, Dubai is a city of great luxury and class so a very good place to do your Christmas shopping or enjoy a dinner out before heading to one of the many events that will be organized at the end of the year. As for me, I'll be spending my holidays with my family back home but I also look forward to visiting Dubai.