March 29th, 2011
From Palmyra my trip in Syria continued in direction of Hamah, the city known for its giant water wheel facing the Orontes River and charming city centre.
We arrived in Hamah after about two and a half hours of driving and after a quick break to cool off and enjoy some drinks our tour guide walked us to the first of Hamahs 17 norias the Arabic official name for the water wheels that give this city it's characteristic feel.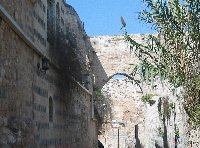 Tourism Hamah
The norias today are part of the history of Hamah and tells us more about how people used to live here.
The water wheels which now are unused were of great importance for the people living in Hamah and for those who were involved in agricultural activities outside the city. The norias had to lead the water from the Orontes River into a series of aqueduct channels which led to both domestic as agricultural users.
It was very interesting to learn more about the history of Hamah and it was again convenient to be able to walk around town accompanied by a tour guide who could fill us in on local customs and translate where needed.