March 31st, 2011
Earlier this month my husband had to travel to Atlanta for work and asked me to come along with the kids after he had finished, just to spend some quality time with the family on a trip away from home.
In Atlanta we took the kids to visit the World of Coca Cola, since they are such fans..:) and they had a lot of fun.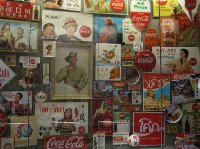 Tourism Atlanta
Besides learning some more about the The Coca-Cola Company and visiting the museum there were some fun attractions for them like watching a 4 D film the Coca Cola theatre and of course they could sample all the varieties of Coke.
After our visit here we headed to the Georgia Aquarium, another great place in Atlant to visit if you're travelling with kids. It was a perfect family weekend away from home and we loved Atlanta!