April 9th, 2011
Saint-Tropez is the perfect place to go to when I feel a little off and need a serious break away from the city. Living in Marseille it's only a short car ride away and before you know it you have reached paradise on the French Riviera.
Of course Saint-Tropez is known as the land of luxury and stars but that doesn't mean that other people can't come here as well!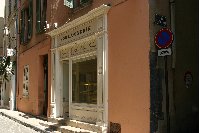 Travel Blog Saint-Tropez
Actually I kind of like that world where everything is possible and elegant and it makes me feel like I can do anything and just dream away while staring at beautiful yauchts docked in the Saint-Tropez Marina, drinking expensive wine and stroll along all the gracious boutiques on Rue Georges Clémenceau.