April 29th, 2011
I made a trip to Prague with my classmates last weekend and we stayed at the Labe Hotel in Pardubice. It was my second time in the Czech Republic and Prague really has become one of my favourite city trip destinations in Europe.
From Pardubice we went to Prague by bus which took a little bit more than an hour and a half but we had so much fun that we had arrived before we knew it!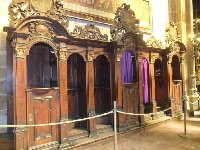 Where to go in Prague
We had lunch at McDonalds, not a great culturual enrichment but it was soooooo good:) We even went twice! I added some pictures of my trip to Prague below.