January 22nd, 2010
Prague is without a doubt one of Europe's most characteristic cities and not to be mistaken for a copy of travel destinations like London, Rome or Paris.
Prague is the largest and oldest city of the Czech Republic and located on the Vltava River which makes this destination even more attraction. The historical centre of Prague was listed as a World Heritage site more than 15 years ago for housing sights like the Astronomical Clock on Old Town Square, the impressive St Vitus Cathedral located within the Prague Castle, the surprising architecture of the Dancing House also known as the Ginger and Fred of Prague, the royal status of Wanceslas Square, the amazing towers of Charles Bridge and the touristic shops on Mostecka Street.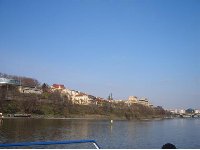 Pictures of the Vltava River..
Especially the phenomenal arwork in the construction of the Astronomical Clock deserves a closer look. If you're are patient you will notice the little windows next to the clock opening at the completing of every hour between 9 am and 21 pm giving way to the statues of Christ and the 12 Apostles.
Besides these main sights Prague has a wide range of nice restaurant and little bars too. Touristic places like Mostecka St have something to suit every travellers tastes and it won't be hard to find you way. We found a lot of nice Italian restaurants and even a typical Czech cuisine at restaurant Kolkovna.
At night Pragues becomes this magical place as the town lits up their candles and the glowing Castle looks out over the river. The best thing to do is to walk over Charles Bridge as the view of the city is just stunning.
The Charles Bridge connects the Old Town part of the city with the Castle of Prague and offers an incredible scenic walk over the water.