March 5th, 2010
Prague, the golden city and the home and inspiration of Kafka.
This fascinating city has so much to offer and walking trough the streets that decorate the city centre of Prague you will be amazed by the mixture of architecture from Art Nouveau to Barroque Gothic and Cubic styles, all spread out over the four main quarters of the city.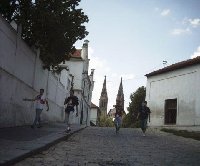 Photos of my trip to Prague,..
During my stay I visited as much as the historical centre of Prague as possible. I visited the Jewish Quarter which is really impressive and seems to have frozen time.
At night I went dancing at the Karlovy Lazne, the biggest club of Eastern Europe and a place where young locals and tourists come together.
Prague is a beautiful city and not just for young people. It has a lot of diffent activities and attraction to suit the tastes of every traveller type!