June 21st, 2011
During our holiday in South Africa my boyfriend and I booked a specialized tour with Drifters Tour Operator which we found through the internet.
The tour we went on was called the Kruger Park Safari Tour and took us from Johannesburg on a 5 - Day Bushveld Safari through the Mpumalanga Province of South Africa located in the east and and bordering Swaziland and Mozambique.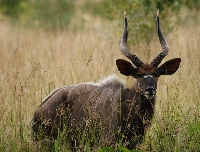 Holiday in Johannesburg
The tour was amazing and the Kruger Park Safari something out of this world!
We actually got to sleep at a lodge situated in the privately-owned Balule Nature Reserve, alongside the Kruger National Park which made the experience even better. The Drifters Game Lodge was the perfect place to stay on this tour and we had a beautiful luxurious suite, on of the 8 suites that the lodge has to offer.
During the day we went on safari tours, forest walks and really experienced South Africa culture as well. Besides our 5 day tour we visited both Capetown and Johannesburg.