December 30th, 2011
One of the nicest attractions in and around Johannesburg and there are quite a lot (!) is the Johannesburg Zoo which me and my girlfriend visited on our holiday in South Africa.
We had found out about the Johannesburg Zoo through their website and simply by searching fun attractions in Johannesburg on tripadvisor which helped us a lot.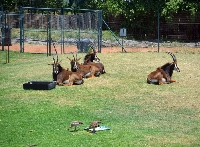 Tours Johannesburg
The Johannesburg Zoo is located at the corner of Jan Smuts Avenue and Upper Park Drive in Parkview but just look for info on directions and tickets on their website.
It's no surprise that the animals are gorgeous and you will find beautiful wildlife species not to be found in more western zoos. Of course being on a holiday in South Africa means being able to go into the real bush and enjoy safari tours and all that but when you're in the city it really is a nice way to spend a day and take a break of the sightseeing. We did a little bit of both and of course we enjoyed the beautiful beaches as well! I will post more blogs about our time in Johannesburg soon so stay tuned! Greetz John.