July 12th, 2011
This weekend I went to Berlin to visit a good friend of mine and together we spend three days cycling around this incredible city! I had never done a tour by bike but since the weather was great during my entire stay it turned out a really convenient and economic way to explore Berlin.
We cycled along the Berlin Wall which devided the city in two after World War II and created the barrier between East Berlin and West Berlin. Today the remains of the wall are a great source of inspiration to the world because of its street art world proclaiming peace on earth and liberty of speach.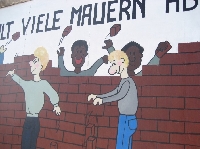 Where to go in Berlin
Eventhough most of my photographs include art work Berlin itself is a beautiful travel destination which I would strongly recommend!