February 27th, 2010
Berlin is a magnificent city with amazing monuments and modern structures. There is also a lot of entertainment with nice bars and outstanding clubs. The climate can be a bit rigid in winter times but standing the cold will be worth it.
I also went to the Hard Rock Cafe which is a great place. As for touristic attractions you should visit the remains of the Berlin Wall with al its world famous writings. Also for art enthusiasts Berlin is a good travel destination and you will find a lot of interesting museums.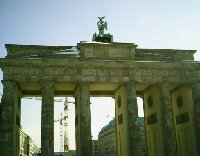 Brandenburg Gate in Berlin.
The Judischen Museum, the Pergamon Museum and Checkpoint Charlie in the Alliierten Museum are just a few names of places to visit. I would recommend to walk around Berlin during the day and see these sights for yourself.
At night you find a lot of nice bars in the city centre and you can't leave Berlin before you have tasted their excellent beer, great drink to toast to a beautiful city!