March 22nd, 2010
For my 30th birthday I decided to treat myself to a short getaway and booked a trip to Berlin where I celebrated with some of my best friends.
In total we stayed in Berlin for four days, a short holiday but a lot of fun!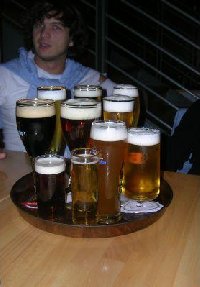 German beer at the Hause der..
The flight to Germany costed about 50 Euro's and four night at the Generator Hostel only 80 Euro's. To top that you can get some of the best beer at the Hause der 100 Beer dor less than 3 Euro's.
Berlin can definitely seem a cold place but when you start looking in all the different streets and angles you will find a whole different world hidden away.
We discovered some amazing bars and clubs in the most strangest places underground of in unexpected location like an old factory.
Of course we couldn't leave this city without leaving our writings on the wall, an unforgettable trip and the best 30th birthdya I could have wished for!