July 20th, 2011
Another great place to visit if you wan't to spend a weekend away from home like we did or maybe when you are travelling as a visitor to Alberta is Banff and beautiful Lake Louise.
Lake Louise is located in Banff National Park and a very popular destination with both locals and tourists for its stunning scenery and great outdoor activities like kayaking, horseback riding and hiking.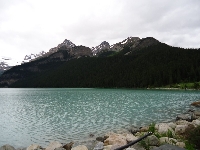 Trip to Banff
The emerald colour of Lake Louise comes from rock flour carried into the lake by the force of the gletsjers melt-water and gives this place its magical touch, especially on a sunny day. We spend a weekend with the family at the Lake Louise Mountain Resort near Banff (about 40 min by car) which is perfect for kids because of their playground facilities and great spaces.
In wintertime this ski resort has great ski and snowboard facilities but even outside ski season there will be plenty to do. For example the Lake Louise sightseeing gondola is open all year and this is great way to look out over the gletsjers and maybe spot some wild bears! The gondola will take you up the slopes of Sulphur Mountain and you can also visit the Banff Hot Springs at at the base of Sulphur Mountain.