October 13th, 2011
A trip to Banff or a weekend in this incredible part of Alberta is the perfect way to escape your everyday's routine and enjoy some of the area's most stunning places like Lake Louise, Johnstons Canyon, Lake Minnewanka or Lake Peyton.
I recently visited Banff with my church and with a group of 15 people we enjoyed a very spiritual weekend filled with new discoveries.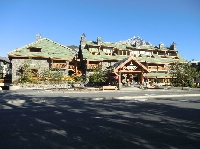 Vacation in Banff
We stayed at the Fox Hotel in Banff which turned out to be an excellent base for our daily visits as from here it is only a short drive to Jasper and the nearby located national parks and lakes.
The gondela in Banff is a nice thing to do and it will give you a beautiful panorama of the area. Especially if you are visiting with children this would be a nice attraction.