August 3rd, 2011
Rathlin Island in Ireland is one of my favourite getaway places just off the coast of County Antrim, one of the six counties of Northern Island turning Rathlin Island into the northernmost point of the country.
You can get to the island by ferry and rent a cottage during your stay. If you travel by ferry from Ballycastle to Rathlin Island you will have the comfort of bringing your own car to drive around the island which will take you just a few miles.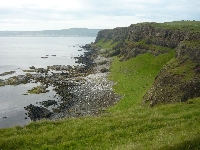 Holiday in Rathlin Island
You will come across some beautiful rocky cliffs, saluting seals at Mill Bay, lazy cows hanging out along the way to the Visitors Centre and some stunning beaches as well.
Also make a stop at pittoresque Rathlin Island harbour and compare its panorama to the one you will enjoy from the clifftops, beautiful!