January 3rd, 2010
A 120 km southeast of Kochi you'll find the Periyar National Park which is great for elephant and tiger spotting.
Actually, the park is popular for its Periyar Tiger Reserve but cruising through it won't give you the garantee to spot one..and so we didn't.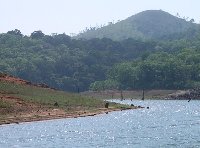 Cruising through Periyar..
We did see a lot of buffalo's, birds and a deer:)
The best part of our stay here was the fact that we got to sleep on a true houseboat, as in a house on a boat!
That on itself was pretty cool, but we also had our private captain and cook on board which made our stay ultra pleasant.
In the afternoon the fresh prawns were fished and prepared for our evening dinner. It was an amazing treatment and the seafood doesn't get any fresher!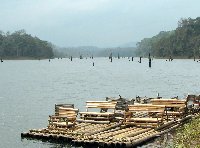 Boat ramp at Periyar..
The boat was big enough to fit us, a little bath- and bedroom and a couples of seats and tables on deck to chill out from a long day of sightseeing.
Well, we did try to avoid the hot hours in the early afternoon when temperatures start to rise above 35 degrees. Luckily there was plenty of shade and even a matras to lie on and enjoy the spectacular landscapes.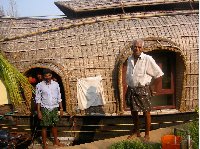 The whole crew of the..
The visit to the Periyar National Park was really interesting and it's probably the area's most important attraction as the rest of town doesn't have a lot to offer.
Renting the houseboat was the best thing we could have done because it is the ideal way to explore the backwaters of Kerala and get to see a lot of interesting things.
The Kerala Backwaters Cruise is very popular because from the river you will be able to spot wildlife but you'll also get a better understanding of how the people in the villages located alongside the river live their life. A great houseboat cruise and even better India experience!