January 10th, 2010
Cape Leveque is great place to visit if you're staying in Broome. You can either book a daytrip or rent a 4wd and drive up there yourself but if you do make sure you go prepared as it is a long drive.
To get from Broome to Cape Leveque it will take you at least a few hours by car and the best thing is to make some stops on the way. We decided to book a daytrip because we had a normal rental car and road conditions in this part of Australia do require a high clearence vehicle. Most of the roads are unsealed and run through a very dry area where fuel is scarse and touristic attractions well hidden.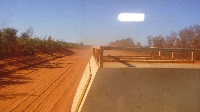 Looking outside the 4wd
The tour included some stops at the local Aboriginal communities which were very interesting to visit. Unfortunately we booked the Cape Leveque day trip on a sunday and therefor the little shops in the communities were closed. We did got a good impression of how people live in these villages.
The quality of the houses can vary a lot from community to community and while some villages were very well looked after others seemed vary primitive which made it hard to imagine how people live in these parts.
We had some morning tea and biscuits at the community of Beagle Bay which is famous for its beautiful church. Back on the we headed for Cape Leveque in the far north of Western Australia.
The beaches of Cape Leveque are stunning and pretty much deserted. Besides a small camping ground with some happy campers on it, there was absolutely nobody and considering the road they have had to travel to get there I couldn't even imagine they made it here.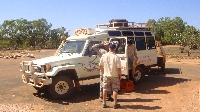 Day trip to Cape Leveque
We had some fun time on the beaches while our tour guide tried to pull our 4wd out of the mull sand dunes. Getting stuck here happens 9 out of 10 times so always think of bringing an extre tyre.
After a relaxing time of the beautiful beaches we had a great lunch on the beach which made our tour complete.