January 10th, 2010
A very traditional thing to do in the Kimberley region is to go mud crabbing. Most of the day tours up to Cape Leveque include a visit to the mangroves on the way back to Broome where you will not only observe the art of mud crabbing but have a go yourself as well.
And believe me the name says it all! So there we were in the mud trying not to fall over in our oversized boots in a labyrinth made of branches, sticks and mud pools. Of course nobody got their hands on a crab that could be considered dinner so we relied completely on our Aboriginal guide. This man turned out to be the genius of the mangroves and came back with a bag full of giant crabs!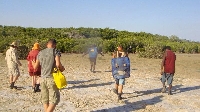 Moving into the mangroves
How he managed to catch them with just a thin piece of iron poking in the mud whole only heaven knows. I just remembered getting out of that mud hole was a job on its own!
Back to our car we washed off the mud we had all over us and like little school kids watched our guide while he demonstrated his catch. In the end we were all treated to a fresh piece of crab meat from the grill without really having done anything to earn it so I guess we did ok!