January 21st, 2010
We spend our dream holiday in the beach resort area of Cancun, a beautiful location on the coast in the south of Mexico. Most of the resorts and hotels here overlook the Caribbean and are situated right on the beach.
Cancun is the perfect spot to explore the Mexican inland and enjoy that deserved beach holiday at the same time. Cancun is not too far away from Playa del Carmen more down south and you will find a wide range of resort, hotels and other types of accomodation on the socalled Riviera Maya, a touristic stretch of white sand playa between these two locations. If you want to stay in Cancun you won't have any problems finding accomodation in the city's Hotel Zone where you'll find over 150 hotels and lots of touristic attractions.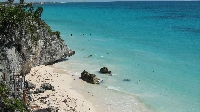 Travel Guide Cancun
There are many bars, restaurants and theme parks to pass some dull hours if you will have any. From Cancun you can easily arrange tours to some of the archeological Maya sites like Tulum, Kohunlich and Chaccahoba more in the south of the state Quantana Roo.