February 9th, 2010
Every year I volunteer in Lourdes and its everytime a beautiful experience Doing volunteer work in Lourdes is important and people are alwaus really grateful and keep thanking for the help we provide.
Volunteering in Lourdes I have met some amazing people with great hearts and a gift to help others. This year I met a new girl in the organization and we got along rightaway!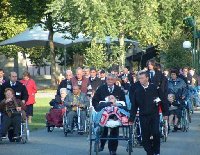 Pictures of volunteers in..
Working in Lourdes can be quite emotional and even if the years go and I have experienced it all several times I still don't get used to it and somehow it has a special feel to it everytime. The mission we had this year in Lourdes made me feel proud to be a part of it and for me it was a unique experience.
Besides the volunteering work Lourdes is also a very nice and characteristic place to visit. The holy centre of Lourdes is definitely worth a visit and has some beautiful attractions like the Rosemary Basilica, the Lady of Lourdes statue near, the sacred Grotto and the Notre Dame Sanctuary.