February 17th, 2010
My trip to Brazil was great! I travelled together with my friend Claudio and in total we spend 24 days in Brasil. Eventhough we tried to travel as low budget as possibile we had a lot of fun and we managed to see a lot of nice places.
We took a flight from Milan to Sao Paulo where Sergio, our Brazilian friend, was waiting for us. It was great to spend a few days in Sao Paulo together with Sergio and it really gave us the opportunity to addapt to the new lifestyle and ricover from our long trip. Between Caipirinha cocktails and a buzzling nightlife he found just the right medicine!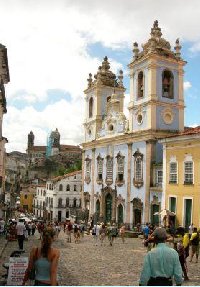 Pelourinho, San Salvador de..
We had a great time during our stay in Brazil eventhough the period in which we travelled weather wise could have been better. I also didn't have much luck with my luggage as my suitcase was lost upon arrival so I had the buy some new clothes a jacket and of course some underwear! In the end Sao Paulo was a great city for us.
For me it wasn't the first time in Sao Paulo as I used to live there for a few months. When I saw the city after a some years things seemed different and better in a way and Sao Paulo has become even more fascinating to me.
From Sao Paulo we went to visit the Iguazu Waterfalls which were totally stunning! We visited the Iguazu Waterfalls on a tour which we planned ourselves and took about six hours! We decided to drive to the Argentinian side of the waterfalls first and visit the Brazilian part later. Both panorama's were breath taking and we even did an amazing rafting tour in the waters of the Iguazu Falls.