February 24th, 2010
The month I spend in Mexico was a fantastic experience and a great opportunity to learn more about the culture of the ancient Mayan and Aztec people.
Together with two of my friends I left for Mexico City from where we would start our big adventure. Exactly a month later we returned from Cancun.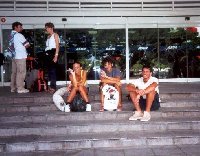 Heading back home from..
In one month we visited many archeological sights and relaxed on some of the most stunning beaches. I also have some great memories of our chapas, the Mexican scooter which we used and was a lot of fun.
In Tulum we stayed in wooden beach cabins which where really comfortable and sleeping there was great, right on the beach! We spend the last 8 days of our stay in Tulum where we also met up with another friend of us.
Around six o'clock in the evening you could count on an amazing sunset leaving you with just your cabin candle to lit the room. In the morning the iguanas functioned as a perfect alarm clock while the mosquitos kept you from falling asleep..
In total we spend one month in Mexico spending around 2000 euro without having to rethink our budget. I don't know if today you will be able to experience the same kind of trip for that kind of money because prices do tend to rise.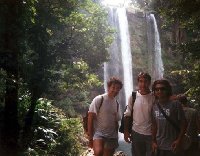 At the Misol-Ha Waterfalls.
We also included some day tours in our travel programme and went horse riding. We also visited the Canyon which was beautiful. Nel 2000 per un viaggio di un mese abbiamo speso circa 4 milioni, senza farci mancare nulla. Gite a cavallo, percorrenza del canyon. Non so se ora con 2000 euro si riesce a fare la stessa.