March 15th, 2010
During the summer of 2004 I went on a beautiful holiday to Egypt with my cousin and his family. We've been to Cairo which is a huge city with a lot of chaos.
I noticed the bad conditions in which some of the Egyptian people live and in a big city as Cairo you will find certain areas in which you maybe shouldn't go being a tourist.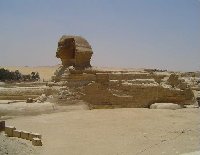 The sphynx cat of Egypt.
We stayed at some friends of my uncle who were very welcoming and made sure we had everything we could wish for during our time in Egypt.
We went to visited a lot of interesting places and we got to see the Sphynx, the pyramids, the Nile river and of course the Museum of Cairo which is the largest museum of the world!
Inside the museum there even was a sign with guide lines for people visiting the museum, explaining that, in order to observe every single object inside the museum for at least thirty seconds, it would take you three months to see everything!
We visited the museum in about two hours without rushing too much and that alreay seemed like an eternity!
The last days of our stay in Egypt we spend at a 5 star hotel on the Red Sea where we had an amazing time. The sea was beautiful and very clean, with lots of fish to admire.