March 26th, 2010
During my trip to the United States I visited Los Angeles, the capital city of California. Los Angeles is a huge place with something interesting to see on every block and every street.
I also visited Hollywood, the place where the big screen was invented. Being in Hollywood of course I had to stroll along the world famous Hollywood Boulevard where the stars literally have fallen from the sky.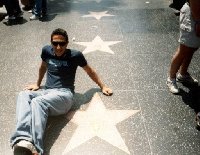 Photo of Hollywood..
It was amazing to see the Walk of Fame and the Kodak Theatre where the annual Oscar event is being held. I also got to see some of the most succesful film making studios like the Universal and Warner Bros studios.
From the city I travelled to the coast, to Malibu to be precise where I went to the legendary beaches of Bay Watch and Venice Beach.