July 11th, 2011
This year I travelled a bit further and went to visit a friend of mine in Los Angeles which was the first time I visited California. I had been to New York twice and Miami once but never to California so I was really excited about the trip.
Los Angeles has gained great status as the land of the rich and famous over the years so of course I wanted to visit Hollywood and its most famous street; Hollywood Boulevard and the Walk of Fame.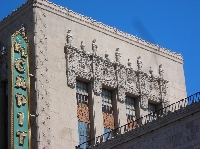 Travel Experience Los Angeles
Maybe to those who have been there before it may sound funny but walking around Hollywood I felt like I had entered some fantasy world where the streets are made out of stars of famous people, premieres are held, limousines pass you by what can I say, I loved all the drama. Of course places like Hollywood or Beverly Hills don't represent Los Angeles in all of its angles but you can't miss it while you're there!