April 5th, 2010
From Salvador we travelled to Lencois, an area known for its natural beauties and a perfect way to calm down from the crazy carnaval days we spend in Salvador.
Lencois has some amazing waterfalls, mountains, sand dunes gorges and underwater caves and a tour to at least one of these beautiful parts of Brazil is a must on every tourists list!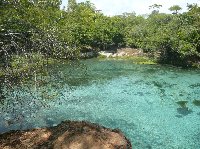 Photos of our snorkeling..
We visited the amazing waters of the Gruta Lapa Doce and went snorkeling in these crystal clear waters.
The tour was amazing and we had a lot of fun, the caves if Gruta Lapu Doce are really unique. We also went ziplining over the lagoons which added a bit of edge to the excursion.
Lencois was great and I would definitely recommend it to people travelling through the state of Bahia, inland from Salvador.