April 5th, 2010
In a local restaurant in Lencois we heard about a local farm tour we could do which included some wine and liquor tastings, a lunch and a guided walk around the farm.
The owner of the farm showed us around and explained everything about how things went down on the farm.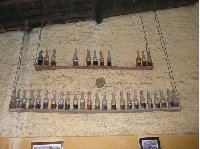 Vacation in Lencois
We also got to taste different brands of Cachaca, a local Brazilin liquor, which is pretty heavy if you drink it at ten o' clock in the morning, I can assure!
We had a great day and went horse riding as well. The horses looked great but unfortunately weren't to eager to follow my directions, so I ended up in the bush where my horse decided to take a break from the rest of the group. A really frustration experience but at least it was different!