April 10th, 2010
Kalbarri is a town in Western Australia with a beautiful coastlines and some challenging hiking trails.
There are many touristic sights spread over the coast from the particular coastal cliffs and viewpoints to amazing rock sculptures like Mushroom Rock.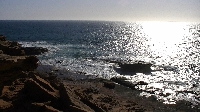 Panorama of the coastal..
Mushroom Rock is a rock sculpture eroded by the forces or time in the shape of a mushroom.
They say its particular shape took thousands of years to develop and is a result of rock weathering.
Rock weathering starts with the softer sandstone layers where it forms notches whereas the harder layers are more resistant. You will also spot some eroded lines on the rocks where the stronger water flows eroded straight lines which were made wider and longer through times.
The Tumblagooda sandstone sculptures are amazing and you will be able to find some beautiful fossils of marine life graved into the rocks.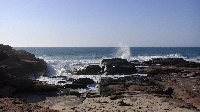 The eroded rocks at Mushroom..
The water flowing underneath the rock has cut away the bottom leaving the upper part of the rock balancing on a smaller rocklike stem.
To get to Mushroom Rock you can park your car at the beginning of the socalled Rainbow Valley Trail which will take 2 hour to complete, it's a 1,5 km return walk.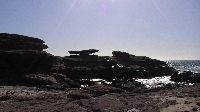 Hike to Mushroom Rock in..
Some parts of the hike can be pretty steep so make sure to wear good shoes and no flip flops. Also it might not be an easy path to walk along with children.
We met some little hikers but unfortunately their parents decided it was a hike a bit too tough for them so they went back before they reached Mushroom Rock.
Besides some steep sections you must be aware of loose rocks and uneven surfaces. Once arrived at the beach and the cliffs on which you'll find the Rock keep away from the water because there can be pretty strong winds and the water flows can be rough.
Bring a hat, some sunscreen and enough drinking water. The beach is really beautiful to walk on and once you get there it feels like a true victory. Especially around sunset the panorama is amazing. If you climb on the cliffs above Mushroom Rock you'll be able to look out over the entire west coast, a beautiful experience!