February 2nd, 2010
Kalbarri in Western Australia has an amazing landscape with beautiful wilfdflowers, immense rock formations and a beautiful ocean. Just to see all these things you would need to spend at least two days here. And if you're done driving around there's one tourist attraction you should still visit; The Rainbow Jungle.
The Rainbow Jungle in Kalbarri is a zoo specially built for parrots and visitors can walk through several different habitats to see the zoo's parrots. From cockatoos, parrots and lovebirds to parakeets and sun conures, the Rainbow Jungle has them all!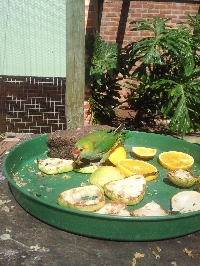 Cute little parrot eating
There is even a special Jungle Flight Walk in area where you can walk through and feed the parrots who fly around freely. Be sure to ask the rainbow jungle staff at what time the feedings are so you can help out:)
We had a great day and didnt want to leave!