April 15th, 2010
We decided to travel through Armenia and stay in Yerevan, the capital of Armenia, to celebrate christmas and New Years Eve.
The whole city was filled with christmas decorations and at night the glowing christmas tree in the middle of Republic Square together with the lights of the National Gallery and the fountains in front of it was beautiful.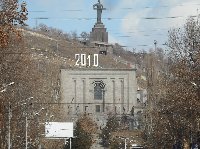 Photos of Mother Armania and..
Especially for the New Years Eve celebrations a large Hollywood-like sign with the magic number 2010 had been hung just above the building of the Matenadaran Institute of Ancient Manuscripts.
Driving by car on Mesrop Mashtots' Ave in direction of the monument of Mother Armania you could see this sign standing exactly in between the statue of Yerevan's guardian angel, female personification of Armenia, and the Institute of Matenadaran.
A beautiful panorama especially at night when the sign lit up and the whole road just illuminated.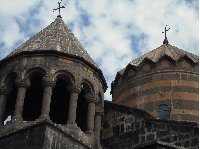 Pictures of the Katoghike..
Yerevan has some very interesting touristic attractions and one of my favourites would be the Blue Mosque, also known as Gok Jami, built in the period when the Yerevan region was still part of Iran.
The Blue Mosque has beautifully decorated entrance gates and the tip of the turquoise mosaic prints on the dome can be seen from all over the city.
Two other places worth visiting would be the mystic St. Gregory the Illuminator Cathedral and the Katoghike Church.
Both places are great to photograph, the St. Gregory for its dramatic surroundings and statue of Armenian general Zoravar Andranik and the Katoghike Church for its ancient inscriptions beautiful interior.